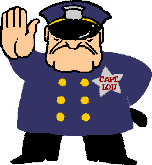 STOP!!!
You have entered an
INVALID USER NAME AND/OR PASSWORD
If you have entered this by mistake his your browsers back button and try again. Repeated attempts will be assumed that you attempting to hack into a government website and/or using an illegal password, your IP will be logged and reported.
If you are a member of Headquarters Company and need a password you can do one of the following:
email the webmaster and provide your:

Name

Rank

Section (commo, scouts, medics, etc)

Platoon Sergeants Name
or
---
This web site is designed for the intent and purpose of communication for the HHC 1st BN 103d Armor, Pennsylvania Army National Guard. This site is designed and maintained by SPC Cullen for the Pa Army National Guard, HHC 1st BN 103d Armor. This World Wide Website is intended for Public viewing, communication and education. Unauthorized attempts to upload or change this website or portions thereof is punishable by Federal Law. All images depicting the Pa Army National Guard are protected under copyright.